Family Matters
Late to the party, a new Guardians collection, some links and a reiteration of belief.

It finally happened! The day finally came!
I got deadlines a-go-go and Real Life is breaking me over its knee like Bane breaking the Bat - so last night, barely a few minutes after midnight, I collapsed into a warm bed. Was I forgetting anything? Surely not!
The morning was spent working on the aforementioned Real Life stuff, performing various other errands and writing a chunk of [REDACTED] - so I managed to get all the way to right now before realising that (choke) I haven't done my newsletter!
It's Wednesday! And I haven't told you about the comics!
Quickly - WHAT'S OUT (SOB) TODAY???
The Guardians Of The Galaxy by Al Ewing TPB, that's what!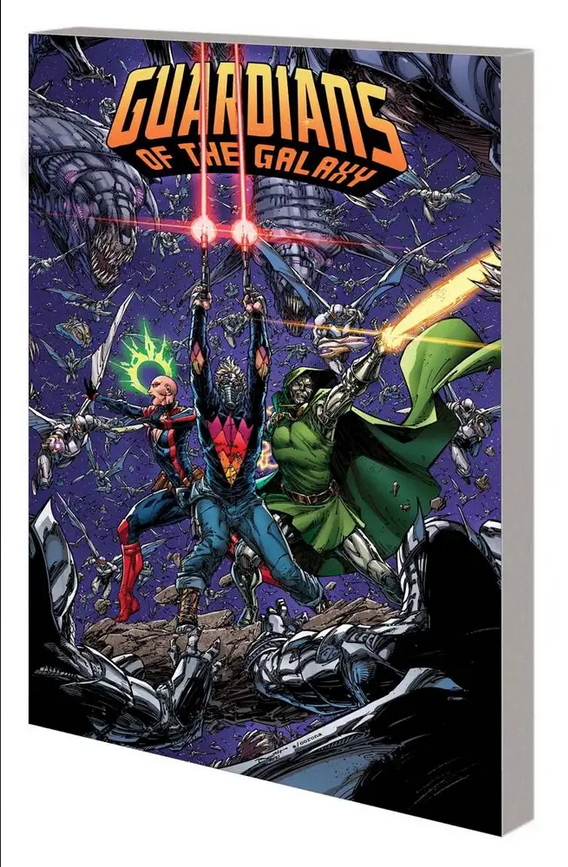 That's a misnomer, of course - it's not just by me. My Guardians run wouldn't have gone anywhere near where it went without the masterful work of Juann Cabal, Marcio Takara, Juan Frigeri, Federico Blee and Cory Petit, under the editorial aegis of Darren Shan, Lauren Amaro and Katelyn Gregorowicz. And you also get the Rocket mini to boot, with Adam Gorham, Michael Gardland, Jeff Eckleberry and Jordan White and Kathleen Wisneski joining in the editorial chairs. And to close it out, the one-shot annual with Flaviano and Rachelle Rosenberg.
To single out Juann especially - his experimental, wild, genius-level storytelling sense really guided what the book became right from the start, and issue #9 in particular - "I Shall Make You A Star-Lord" - is in the running to be one of the best single issues I've ever been involved with, and one that changed my thinking and arguably my life on a personal level. (With #6, "Same Time Next Week", as another strong contender.) Writing that got me to take a good look at myself, to understand that I was sending all these fictional characters on journeys of self-discovery because I was afraid to take one myself, to admit that, yes, the feelings I had counted for something, that they were enough. I'm enough. We're all enough. I came out as bi a few months later, and the response from a lot of readers was "I always knew he was family."
That's what Guardians will always be, for me. A book about family.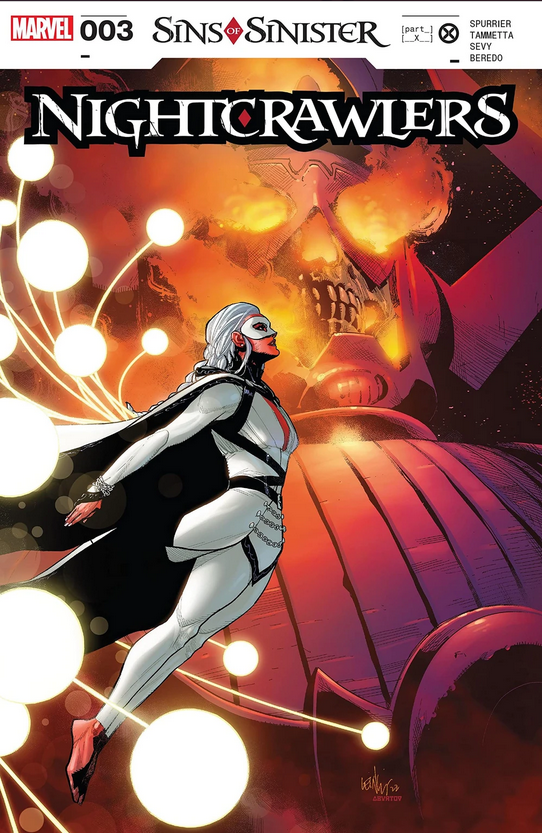 Also out today - Nightcrawlers #3, courtesy of Si Spurrier, Lorenzo Tammata and Philip Sevy. It's the penultimate chapter of the Sins Of Sinister saga, and the end of this three-issue tale of Mother Righteous and her band of bamfers. What secrets are revealed? What dread vaults are opened? Find out within!
FREEDOM FIVE
I've brought this up before, but currently. in the UK and the US, trans folks are under attack by politicians seeking to use them as easy scapegoats to distract from their own corruption, a supine client media seeking to use them for easy column inches in place of reporting on actual news, billionaires who've come to believe that their overabundance of money makes their pettiest whims into noble causes and the misinformation they've chosen to fall for into hard fact, and a whole ecosystem of grifters, fascists and failed humans. So here's a fab five of useful links - you'll have seen some of them before in these pages, but not all together, and new readers may find them useful.
In the US, I've mentioned the Transgender Law Center before - in their own words:
"Transgender Law Center (TLC) is the largest national trans-led organization advocating for a world in which all people are free to define themselves and their futures. Grounded in legal expertise and committed to racial justice, TLC employs a variety of community-driven strategies to keep transgender and gender nonconforming people alive, thriving, and fighting for liberation."
You can find them here.
The National Center for Transgender Equality also operates out of the US. You can find their main page here, but they also host a directory of Trans Legal Services, which can be found here and contains legal resources for trans people by state.
Then there's the Trevor Project, another organisation I've mentioned in the past, who provide 24/7 counselling and support to LGBTQ+ young people with an eye towards suicide prevention. They're right here if you want to contribute to their services or explore their resources.
In the UK, I've mentioned Gendered Intelligence in the past - again, in their own words:
"Gendered Intelligence, established in 2008, is a registered charity that exists to increase understandings of gender diversity and improve trans people's quality of life. We are a trans-led and trans-involving grassroots organisation with a wealth of lived experience, community connections of many kinds, and a depth and breadth of trans community knowledge that is second to none. We believe everyone can be intelligent about gender!"
They can be found here.
Lastly, TheyWorkForYou is not an LGBTQ+ related charity, but it is a place for you to check your local MP's voting record if you're represented by a UK Member of Parliament, and it's also a place to write to them, which makes it a very useful place to go, especially since Labour now seem all too willing to ally with the Tories in their increasing culture war against the trans community. I've written to my MP on this - and other subjects - and you can too.
This is obviously far from an exhaustive list - there are better places to find this stuff out, and better people to find out from than me - but it's a start, and in the spirit of solidarity, I feel a measure of duty to keep bringing this up. Because trans rights are everybody's rights, and trans joy is - or should be - everybody's joy. (Here's some joy from a couple of weeks ago - the first ever all-trans masc football team in Europe played a match.)
At the end of the day, either who we are belongs to us, or it doesn't. I say it does. Our minds and hearts are our own to know, and our bodies are our own to live in however we want. People know who they are.
AND ON THAT NOTE...
A more regular service will be resumed... Sunday? I think Sunday. Time to get this train back on track. So for now, this is still the place to find me. Love and strength to all those who need it, and to play us out, here's Eighth Wonder with "I'm Not Scared".